Services
Service When You Need It
We're available 24 hours a day respond to your requests, including handling the smallest jobs. We've even provided less than 24 hour turnaround in special cases. Our pickup and delivery service can save you time and hassle as well. We do whatever we can to satisfy our customers.
As you now know, we do more than our name implies, and we look forward to helping you in any way we can.
Burn-Off
Industrial Coaters rely on us for complete maintenance of their racks, hooks and fixtures. Initial cleaning is done in our efficient, environmentally safe burn off ovens. Our post cleaning processes and options provide our customers with the product of superior quality at a competitive price. Additional repair and maintenance is provided to insure our customers maximize their productivity to maintain their competitive edge.
Media Blasting
Whether for coating or rust removal, surface etching and conditioning or to prepare the surface for improved coating adhesion, we have the experience and equipment to meet your needs. At Industrial Metal Cleaning we specialize in media blasting. For more difficult jobs, manual blasting is the preferred technique. Our equipment can handle not only small delicate jobs, but in our 16 by 24 ft. blast room we can handle much larger jobs.
For large volume jobs, our automatic blast equipment can meet most production requirements. For general clean up or to etch the surface to improve coating adhesion this process is preferred by the experts.
Shot Blasting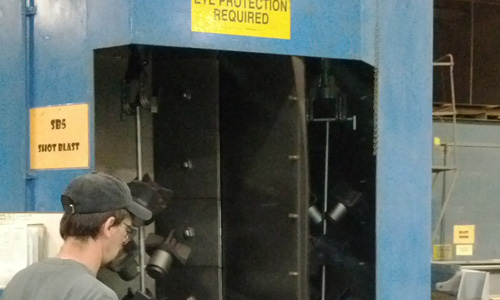 In many cases, steel shot is specified by customers. To meet their needs, we have five steel shot machines including a rubber belt machine and a hangar blaster.
Stripping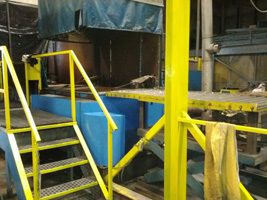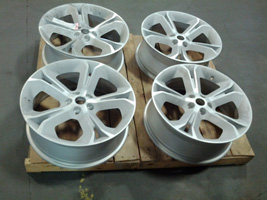 Our thermal abrasive process is unique to the industry. It is a cost-effective way of removing unsatisfactory coatings from steels and heavy gage metals. Initial cleaning is done at controlled temperatures to minimize the risk of damage to our customers product. Secondary cleaning is done either chemically, automatically or manually in our media blast equipment. For large parts, our blast room with automatic reclaim and dust collection system will meet most any needs. The resulting surface is etched to provide superior adhesion characteristics and yet will meet class a specifications in the automotive industry.
For aluminum, magnesium, brass, zinc, bronze and other unique metals, our chemical strip system will remove powder epoxies and automotive lacquers. Secondary cleaning ensurers you will be provided with a clean part ready for re-coating.
Are your parts galvanized? We can help you there also.
Fabrication
Do you need welding services for fast repair of parts, tooling or equipment? Put us on your call list. While you're at it, pull out those drawings, or sketch on the nearest napkin. We want to be your supplier for custom workstations, racks, and any part or piece of equipment that requires the careful, quality work of experienced fabricator.
On occasion we have been able to help our customers reduce costs or meet production schedules by assisting in production welding. If we can be of service, just let us know.
Parts Washing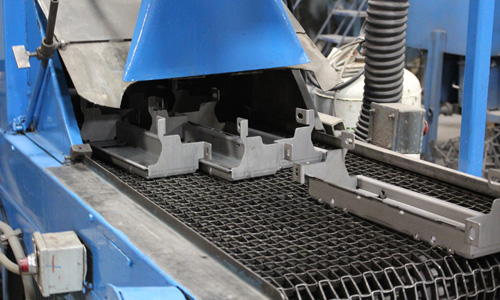 Large parts or small parts, small or large quantities, we can meet your needs. Our high-pressure washers can remove the most stubborn debris. For added clean capability, special medias can be introduced into water stream.
For larger volume parts, whether for just a general cleanup or for decreasing, our continuous belt parts washer is ideal for the job.
Pickling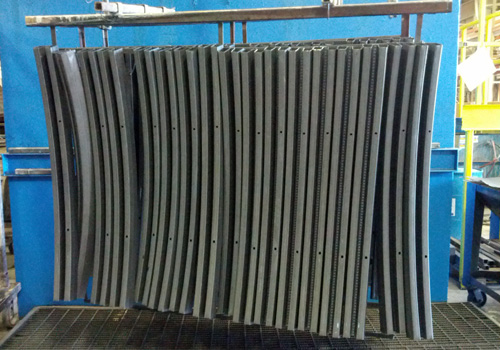 Our pickling line is in full operation. We have two 2,000 gallon tanks, 10 foot in length and 8 foot deep. A two ton overhead crane is used to pick up product. Specially designed fixtures, if required, are readily available. It is ideal for parts with light rust that need to be clean before they can be used.
Laser Scale Removal
Typically coatings do not adhere to areas where laser scale is present. Mechanical or manual methods to remove scale are expensive and not very effective. At IMCC we chemically remove leaser scale cost effectively from the most intricate parts.
Vibratory Finishing
Whether you need to remove burrs or enhance the surface finish of your parts, our vibratory finishing equipment can help. A recent addition includes an auto loader resulting in remarkable gains in productivity resulting in very competitive pricing.
Transportation
We're available 24 hours a day to respond to request, including handling the smallest jobs. We've even provided less than 24 hour turn-around in special cases. Our pickup delivery service can save you time and hassle to. We do whatever we can to satisfy our customers.
Industrial Sales
Looking for burn off ovens or blast equipment? Give us call, we'll be more than happy to help you. we sell the equipment that we use. We can help you decide on the equipment necessary to meet your needs and assist you all the way through to the installation and training of your employees.